Life Time Miami Marathon and Half
Miami, Florida - Sunday, January 28, 2024
'WELCOME TO MIAMI!' Why RUN it?
This famous US course takes runners on a breathtaking journey, weaving through palm-lined avenues and alongside shimmering turquoise waters. With entertainment throughout, the LIFETIME MIAMI MARATHON is not just a race, but an immersive experience that captures the essence of this vibrant city – helping to propel runners to the finish line!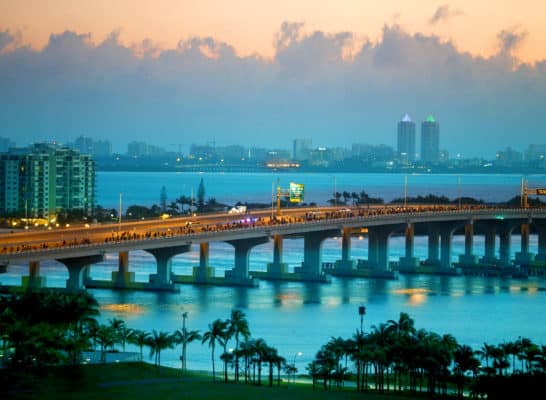 Runners for Cancer Warriors — We NEED YOU!
Cancer is a global issue with no boundaries to HOPE. Our organization awards 'Life Interrupted Grants™' for young adults battling rare cancers to help with financial toxicity due to a cancer diagnosis.  AWF funds innovative research for SCCC with a world-wide database, along with delivering HOPE comfort bags to cancer oncology suites.
AWF believes ALL Cancers Matter, even rare ones!  Our pursuit is to shine a light on a quiet age demographic, as young adults have a unique genetic makeup of cancer and distinctive needs.. As an all volunteer foundation, your support means the world to us and to cancer patients.
Run for #AWFSQUAD Fundraise minimum only $1,500 and receive:
• A complimentray guaranteed charity entry to the Marathon • A RealBuzz Club Membership with training tips and advice • AWF Gear Kit  * Private Facebook running page with our Squad * A hospitality meet and greet 
Custom designed Finishers Medal* Custom-designed tech tees –
Access to post race Finish festival * Post race food & refreshmnets * Runner goody bag
HALF MARATHON race entry $1,200 
Have your own entry: there is no fundraising minimum but we will create a list of perks & incentives for you! 
• AND you will have an amazing feeling as you are assisting a young adult cancer patient
Contact barbara@allysonwhitney.org or melissa@allysonwhitney.org today!
PLACES ARE IN HIGH DEMAND to this SOLD OUT Race so don't miss out, register today to run and bring some relief and HOPE to a young adult cancer patient
*This event is a qualifier for the World Major, Boston Marathon.